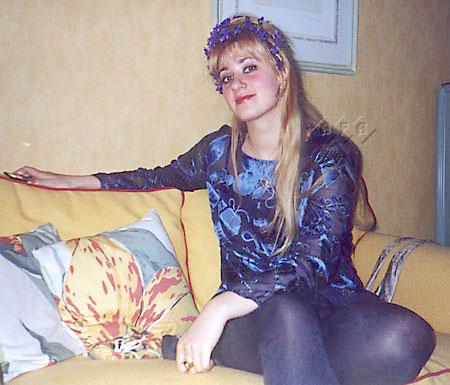 39040
Natasha
Belgium
City: Lanaken
Age: 34
Birth Date: 11/9/1973
Weight: 152lb, 69kg
Height: 5'9", 175cm
Measurements: 39-28-41
Measurements cm: 99-70-105
Eye Color: Green
Hair Color: Blonde
Marital Status: Divorced
Religion: Christian
Smoker: N
Drinker: N
Education: University
Company: Private School
Job Title: Pianist
Sports: Tennis
Hobbies: Reading


Self Description: I'm gentle and loving. I speak French and good English.

Comments: I want to meet a nice man, loving, gentle, well-educated, clever, honest and stable.
Women from other countries:
Ukraine (12539) Russia (6997) Philippines (3587) Colombia (3230) Peru (1217) Costa Rica (546) Thailand (511) Belarus (402) Brazil (243) Latvia (228) Nicaragua (195) China (160) Kazakhstan (127) Moldova (71) Uzbekistan (58) Kyrgyzstan (55) Hong Kong (24) Singapore (18) Estonia (8) Romania (8) Lithuania (6) England (6) Panama (6) Indonesia (6) Germany (5) Taiwan (5) Turkmenistan (4) Belgium (4) Saudi Arabia (4) Azerbaijan (3) Israel (3) Honduras (2) Sweden (2) Italy (2) South Korea (2) Bulgaria (2) Ghana (2) Finland (2) United Arab Emirates (2) Georgia (1) Cambodia (1) Czech Republic (1) Argentina (1) France (1) Spain (1) Australia (1) Uganda (1) Mexico (1) Japan (1) Hungary (1) Netherlands (1) USA (1) Greece (1) Poland (1) Canada (1) Norway (1) test (1) Malaysia (1) Kenya (1) Cyprus (1)

Singles Exchange